2014 WMA Convention & Expo
Planet Hollywood in Las Vegas, NV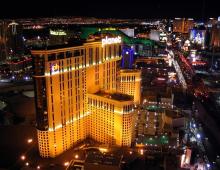 Planet Hollywood Resort and Casino
Planet Hollywood Resort and Casino features Las Vegas hotel accommodations fit for the celebrity A-List, and perfect for Hollywood buffs. Every one of the rooms and suites features one-of-a-kind movie memorabilia set against a backdrop of stylish, modern luxury. When you stay in a Planet Hollywood hotel room, the celebrity lifestyle is yours for the living, and fame lies around every corner.
Room Reservations
You can make your guest room reservations by calling the hotel directly at 866.317.1829 or by clicking here to be directed to the hotel's reservation site. Identify yourself as part of "WMA 2014″ to receive the $139 rate per night. The hotel allows individual cancellations without penalty up to 72 hours prior to scheduled arrival date.
Convention Registration
You can register online now, or print the registration form once it becomes available. It will be linked on this page. You will need to send your completed registration form with payment to the WMA office.
Before Sept. 10th On or After Sept. 11th
Member $425 pp $495 pp
Non-Member $850 pp $990 pp
Cancellations
For a full refund, cancellations must be received on or before September 8, 2014; an 85% refund for cancellations received September 9 through September 19, 2014. No refunds for no-shows, cancellations or event tickets on or after September 20, 2014. Contact Regina Sànchez immediately for cancellations.
Education, Networking and Entertainment
With a healthier economy, it's never been more important to spend your dollars wisely. Owners rely on you to find opportunities to ensure the successful operation of their communities. Here, you will find everything! For you, on a professional level, we'll blend educational programs with entertainment and networking forums so that you'll have everything you need to succeed in this business. We will feature seminars with industry experts focused on shaping our future and our communities; sessions covering practical business issues; opportunities to network with other industry leaders; and a dynamic Expo to make your attendance worthwhile!
Expo
By popular demand, we will once again open the Expo with a wine tasting event. We introduced a dessert reception on the Expo floor last year—and you loved it! We'll bring that back again this year! Connect with exhibitors, who will feature delicious California wines while you network. We will offer you a full day of Expo events the second day, as dynamic Expo will make your attendance worthwhile!
Exhibitor packets are ready to be downloaded. Unfortunately, exhibitor registration is not available online. You must complete the packet and return to Regina Sánchez. If you have any questions, please contact Regina at 916.448.7002 or regina@wma.org.
Golf Tournament
Desert Pines Golf Club—12 noon shot gun start
Welcome to Desert Pines Golf Club
We invite you to experience the Carolina sandhills, tucked away minutes from the Las Vegas Strip, in the historic part of Las Vegas. As you begin your Vegas golf round at Desert Pines Golf Club, you will feel transported from the closed-in casinos and overpowering glitz to a place where you can enjoy the fresh, calming scent of real pine trees. This Dye-designed golf course features over 4,000 mature pine trees lining the fairways with green grass running from tees to pins. White sand bunkers protect large, undulating, bent grass greens fashioned after those at Augusta National Golf Club. Although there are no forced carries, four lakes will add to the excitement and beauty of your round.
Desert Pines is often referred to as Las Vegas' Top Strategic Course and is extremely conveniently located less than ten minutes from downtown and less than 15 minutes from the Strip. The best of Vegas golf, Desert Pines was recognized as one of the best upscale courses in the country by GolfDigest and was selected as a host course by The Golf Channel for the very popular Big Break II. It also ranked in the Top 50 of Public Golf Courses in the Country by the 2009 GolfDigest's Readers Choice.
Desert Pines is located at 3415 E Bonanza Road, Las Vegas, NV 89101. From the Strip: Take I-15 North to I-95 South. Take I-95 South to Eastern exit, make a left onto Eastern, proceed two lights and make a right onto Bonanza. Entrance is located about 1/2 mile on the right.
Highlights
Kick-Off Breakfast – Tuesday, October 14
Set your alarm clocks the night before because you're invited to an early morning breakfast beginning at 9:00 a.m.! This is the first official function at the Convention. We are going to kick this morning off with a delicious and sumptuous breakfast while giving you ample opportunity to network with friends. Remember, there's always a new face in the crowd―introduce yourself and welcome new members. Make them feel good about joining WMA and being a part of this wonderful resourceful organization!
President Alex Boggs will welcome you and officially open the 2014 WMA Convention and Expo. After breakfast, you'll learn who the scholarship recipients are from this year's Frank J. Evans Charitable Foundation. Greg Evans will present scholarships to this year's deserving youth residing in WMA-member communities. Perhaps one of them is from your community! After that, WMA's legislative advocate, Catherine Borg, will give a brief legislative update and announce the winners of WMA's hotly contested golf tournament held on Monday, October 13.
Expo & Welcome Reception – Tuesday, October 14
It's become a tradition! You LOVE our wine tasting event as we open the Expo. We've planned another exciting show for you! Exhibitors have been invited to bring their favorite wines again! This is always a great time to reconnect with other Expo attendees or get to know new people! The Expo continues Wednesday, stopping only for the Annual Meeting and Luncheon. Stop in between seminars! You'll experience a dynamic day interacting with outstanding exhibitors who represent cutting edge products and services of the industry. Drawings will be held at the close of Expo on Wednesday.
Annual Meeting & Luncheon – Wednesday, October 15
Take a well-deserved break from the fast paced action of the Expo and educational seminars. Join us for the Annual Meeting and Luncheon. It is a great opportunity to be introduced to new members, as well as continuing members of WMA's leadership―all in one place.
A plated lunch is provided―delicious food and drink to satisfy your hungry appetite. Then we will proceed with our formal program. Awards will be presented to a deserving member whose political contributions have stood out above and beyond all those who continuously support WMA, and another will be presented to another member whose selfless contributions have impacted the industry. During the Annual Meeting, you'll learn the state of WMA, as well as see the new Board of Directors for 2014-2015 elected and sworn in.
Once all the business dealings have been attended to, you'll be entertained by Judy Carter to get you into that upbeat mood for the rest of the day!
Don't be in such hurry! We haven't forgotten dessert! Come into the Expo and enjoy your dessert as you visit our exhibitors one more time!
President's Dinner Dance — Wednesday, October 15
You are cordially invited to WMA's signature black tie event. It will be held on Wednesday evening in a beautifully appointed ballroom. Dress to impress! We will be there to warmly welcome you―our honored guests―to the annually anticipated President's Dinner Dance. As you walk into the exquisitely decorated ballroom, you know that an enchanting evening awaits you. The magic begins the moment you arrive. Join family, friends and colleagues for a sumptuous meal paired with exceptional wines. Then sit back and celebrate as the new President of the WMA Board of Directors, Ernie Schroer, is sworn into office and delivers an inaugural address. Next, join us in feting the 2014 recipient of WMA's most recognized and esteemed honor: The Busch, Carr & McAdoo Memorial Award.
Finally, after we have wrapped up the business end of our evening, prepare to dance and party the rest of the night away! We promise this will be an evening you will long remember!
Seminars
Tuesday, October 14, 2014
MCM: HCD Updates (10:30 a.m. – 12:45 p.m.)
MHC Mathematics: How 1 + 1 = 29 (A Team Approach to Creating Value) (10:30 a.m. – 11:30 a.m.)
Risk Management/Insurance Defense (11:45 a.m. - 12:45 p.m.)
Update on New Laws (11:45 a.m. – 12:45 p.m.)
Utilities/Voluntary Conversion Pilot Program for Master-Metered Communities (10:30 a.m. – 12:45 p.m.)
What Do You Mean I'm Not Covered? (10:30 a.m. - 11:30 a.m.)
HR 101: Best Practices (2:00 p.m. – 4:15 p.m.)
Legal and Management Advice Panel (2:00 p.m. – 4:15 p.m.)
MCM: Avoiding Failure to Maintain Issues (2:00 p.m. – 4:15 p.m.)
Sex Discrimination in the Workplace—What Community Owners and Managers Need to Know (2:00 p.m. – 4:15 p.m.)
Wednesday, October 15, 2014
HR 201: Sharpen Your HR Skills (9:15 a.m. – 11:30 a.m.)
Legal and Management Advice Panel (9:15 a.m. – 11:30 a.m.)
MCM: HCD Updates (9:15 a.m. – 11:30 a.m.)
MCM: How to be an Outstanding Management Professional (9:15 a.m. – 11:30 a.m.)
MCM: Realities of a Hoarder and Resources for Them (2:15 p.m. – 3:45 p.m.)
Regulating the Purchase/Sale of Homes and Registration/Titling Issues (2:15 p.m. – 3:45 p.m.)
What You Don't Know Can Hurt You (Part II from 2013) (2:15 p.m. – 3:45 p.m.)
Seminars subject to change without notice.
Schedule
Monday, October 13, 2014
Golf Tournament (optional)—Desert Pine Golf Club
11:00 a.m. Golf Tournament Registration
12:00 p.m. Golf Tournament Shotgun Start
Badges/Tickets Pick Up for Pre-registered Convention Attendees
1:00 p.m. to 6:30 p.m.
Networking Cocktail Reception
6:00 p.m. to 8:00 p.m
Tuesday, October 14, 2014
Registration Opens
8:00 a.m.
Kickoff Breakfast
9:00 a.m. to 10:00 a.m.
Educational Seminars
10:30 a.m. to 12:45 p.m.
Lunch on Own
12:45 p.m. to 2:00 p.m.
Educational Seminars
2:00 p.m. to 4:15 p.m.
Expo Opens with the Welcome Reception
5:00 p.m. to 7:30 p.m.
Wednesday, October 15, 2014
Registration Opens
8:00 a.m.
Expo Hours
8:00 a.m. to 5:00 p.m.
Continental Breakfast in Expo
8:00 a.m. to 9:00 a.m.
Educational Seminars
9:15 a.m. to 11:30 a.m.
Pre-Lunch Cocktails in Expo
11:00 a.m. to 12:00 p.m.
Annual Meeting & Luncheon
12:00 p.m. to 1:30 p.m.
Desserts in Expo
1:30 p.m. to 2:00 p.m.
Educational Seminars
2:15 p.m. to 3:45 p.m.
Grand Prize Drawings in Expo
4:00 p.m. to 5:00 p.m.
Expo Closes
5:00 p.m.
President's Dinner Dance
6:30 p.m. to 10:00 p.m.
Thursday, October 16, 2014
Final Breakfast
8:00 a.m.
2014 WMA Convention & Expo Closes
Sponsors
Platinum Sponsors
Advantage Homes
Capital Insurance Group represented by Alvarado Pacific Insurance Services and California Southwestern Insurance Agency
JB Bostick, Inc.
Pan American Insurance Agency, Inc. with Preferred Employers Insurance Co.
Shorebreak Energy Developers
Gold
American Asphalt
Marcus & Millichap
The Bank of Hemet
Well Fargo
Silver
Newport Pacific Capital Company, Inc
Bronze
Black Diamond Paving, Inc.
Credit Bureau Associates
Horizon Solar Power
Inspire Communities
Drink Tickets
Shorebreak Energy Developers
Name Badge Holders
Credit Bureau Associates
Pocket Schedules
Star Management
2015 Convention
October 12-15, 2015
Peppermill Resort Hotel
2707 South Virginia Street
Reno, NV 89502
Planet Hollywood Resort & Casino
3667 Las Vegas Blvd South
Las Vegas, NV 89109
(916) 448-7002
(916) 448-7085 Fax