WMA MCM 2023 Webinar: Tree Management
Presented by Thomas Pacelli and Ryan J. Egan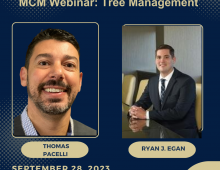 MCM Webinar: Tree Management
Tree Issues and Responsibility
Best Management Practices
Date: Thursday, September 28, 2023
Time: 10:00 a.m. – 11:30 a.m.
During this webinar, our presenters will discuss tree-related issues of interest to the industry.
Attendees will be able to ask questions towards the end of the webinar.
Participants will earn six units of MCM credits. The webinar will be 1.5 hours in duration.
Cost for the course: Member $129; Nonmember $258
To register, please contact info@wma.org.
Emails have been sent to confirmed attendees to check-in. Please check your spam folders or contact WMA at info@wma.org or 800.669.8847 for additional information or to confirm that you are registered.
About the Presenters
Thomas Pacelli
Vice President of Operations, J&H Property Management
Thomas Pacelli joined J & H Asset Property Mgt. Inc. as a Property Manager in July of 2008. Thomas currently holds the position as Vice President of Operations and oversees the Northern California territory. He currently handles the day-to-day operations of J&H and the entire property management department. This includes the enforcement of rules, Mobile Home Residency Law, Title 25 compliance, employee relations, and tenant relations at all properties. He also ensures all properties are in compliance with new and existing laws and regulations plus but not limited to proper drafting and servicing of legal notices, the care of warehouse lien process, and denying and approving tenant applications.
Thomas has been active in the industry and has spoken at Western Manufactured Housing Communities Association (WMA) MCM seminars throughout the state for community owners and managers as well as the Annual WMA Convention. He has also served on numerous WMA Committees over the years and is currently on the WMA's Legislative and Educational Committee.
Thomas graduated from the University of California, Santa Barbara earning a Bachelor's degree in Communications with an emphasis in Business. Thomas is a licensed California Real Estate Broker.
Ryan Egan
Associate, Hart Kienle Pentecost
Ryan Egan is an associate with Hart Kienle Pentecost and is a member of the litigation and manufactured housing practices. He focuses on real estate and land use matters. Since joining Hart Kienle Pentecost, Ryan has successfully litigated dozens of court trials respecting possessory rights and regularly handles land use matters in bankruptcy court. He regularly handles landlord-tenant disputes and discrimination claims on behalf of land owners.
Prior to joining Hart Kienle Pentecost, Ryan worked for a Los Angeles law firm where he focused much of his practice on business law and consumer protection class action litigation. He also gained broad experience in commercial and real estate law, with a particular emphasis on national mortgage modification class actions. During law school, Ryan served as a judicial intern to Presiding Justice David G. Sills of the California Court of Appeal, Fourth Appellate District, Division Three.