Scam reported in Southern California involving reposessed homes, park owned homes and vacant units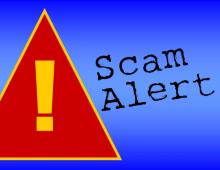 Attention members: We wanted to share that there are a couple of scammers working the Southern California area. In the past few days, scams have occurred in mobilehome communities in Chino, Ontario and Riverside. Police have been notified, but WMA was asked to get the word out to our members.
They are using Bank owned repos and vacant homes in the community to scam potential renters/home owners out of their money. Community operators should be warned to check on ALL vacant units including bank repossessions, make sure they are locked & secured, and keep an eye out for these scammers. Here is how the scam is working. The scammer will identify a vacant home in the community and place advertising nearby (typically a "For Rent" yard sign ) with a telephone number.
The victim will call the number and will be given the location of the unit and the scammer or his assistant will either show them the home or will say "It's already open, so take a look, if you like the home we can meet to sign a contract and collect the security deposit and first month rent". (Victims have stated that they looked at the homes on multiple occasions).
The victims typically meet at a local restaurant off site and once the contract is signed and money collected, receipt is given (sometimes partial money is accepted) the scammer informs the victim that they can move in anytime and when they are ready they will meet them with a key.
After that, if the victim calls the scammer they will only respond via text and say that they are in Tijuana and instruct the renter to go ahead and move in. We will have the key delivered to you. The key never arrives and the scammers are never to be seen again.
If the victim does move in the situation is a midnight move in and potential legal costs will be incurred.
Scammer has used these names:
Samuel Fuentes 619 399-8477
Jesse P. Mendoza &/OR Jesus P. Mendoza. (760) 406-1617.
They drive a 2010 model blue Saturn SUV and a black older model Bronco.