2024 Update on New Laws Virtual Session
Presented by Candy Holcombe, Joseph Carroll, and Ed McDonald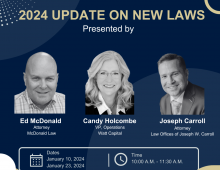 2024 Update of New Laws Virtual Session
New Laws Effective January 2024
How to Navigate New Processes
Date: Wednesday, January 10, 2024
Time: 10:00 a.m. – 11:30 a.m.
Register Online
Date: Tuesday, January 23, 2024
Time: 10:00 a.m. – 11:30 a.m.
Register Online
Join us for an interactive, virtual session on newly signed legislation impacting our communities and hear from industry experts on how to comply and implement. As an added convenience, this session will be offered twice and led by two of our featured presenters. Our featured presenters are Candy Holcombe, Joseph Carroll, and Ed McDonald.
Attendees will be able to ask questions towards the end of the presentation.
Participants will earn six units of MCM credits. The webinar will be 1.5 hours in duration.
Please contact WMA at info@wma.org or 800.669.8847 for additional information or assistance registering.
Please note the following:
* The Update on New Laws will be held as a virtual event only
* The WMA office will be closed for the upcoming holiday starting at noon on December 22, 2023, and will reopen on Tuesday, January 2, 2024. Please be sure to register soon to ensure timely processing.
*The link for the January 10 webinar will be sent out on January 8. Please email us at info@wma.org if you do not receive the link.
Candy Holcombe, VP Operations, Watt Capital
Candace ("Candy") Holcombe is the Vice President of Operations, manufactured housing division for Watt Capital. She has been in the manufactured housing industry since 1987 and has considerable experience in leadership, coaching, property management, home sales and community development for real estate assets owned by individuals, family partnerships, trusts, nonprofit organizations, and municipalities. A frequent industry speaker and instructor, Candy currently serves as Chair of the WMEG Education Committee, and several additional committees.
Joe Carroll, Attorney, Law Offices of Joseph W. Carroll, P.C.
Joe Carroll represents manufactured housing communities throughout all of California. His practice focuses on advising manufactured housing communities and managers on the California MRL, day-to-day community operations (resident relations), termination and unlawful detainer cases, Title 25 compliance, MRLPP, and other HCD issues. Joe has been a service and industry provider for WMA since 2004 and continuously has served on the WMA Education Committee since 2006. In addition, Joe is a frequent speaker at WMA events. In his free time, Joe is an avid tennis player and enjoys spending time with his family and especially coaching his daughters in the various sporting activities.
Ed McDonald, Attorney, McDonald Law
Ed McDonald is a recognized specialist in manufactured housing law, representing community owners and operators for more than 35 years. Ed has extensive jury and court trial experience in all California courts and represents clients in administrative hearings involving land use and rent control issues. He has extensive jury trial experience in representing manufactured housing owners and operators. Ed also has prepared appellate briefs and argued before the state appellate courts.
Ed was a founding board member of WMEG and served as its chairman for many years. He may be contacted at McDonald Law, 15466 Los Gatos Blvd, Suite 109 PMB 63, Los Gatos, California 95032, 408. 728.9528, ed@mcdonaldlawinc.com. He received a joint J.D./M.B.A. degree from the University of Santa Clara.