2023 WMA Convention & Expo
The Peppermill Resort Spa Casino, Reno, NV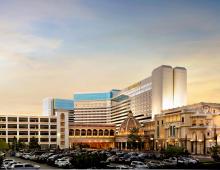 Welcome to the 2023 WMA Convention & Expo!
Registration Fees and Registration
The registration fees are listed below.
Before Sept. 15 On or After Sept. 16
Member $495 pp $550 pp
Non-Member $995 pp $1,095 pp
You can download the registration form located HERE. Or for online registration, click HERE.
Cancellations
For a full refund, cancellations must be received on or before September 2, 2023; an 85% refund will be given for cancellations received September 16 through September 25, 2023. No refunds for no-shows, cancellations or event tickets on or after September 26, 2023. Contact Regina Sánchez immediately for cancellations.
Guestroom Reservations
You will make your hotel reservations directly with the Peppermill. The nightly rate is $110 for run of house (best available at the time of check-in); or $160 for the Tuscany Tower (Sunday through Thursday for both). These rates do not include taxes and fees (tourism fee is $2 per night and a discounted resort fee of $25 per night). The cut-off date for reservations is September 15. Rates will not be available for reservations received on September 16 and thereafter.

You can reserve your guest room in one of two ways:
Call the Peppermill directly at 866.821.9996 and mention group code: AWMHC23.

Please note: The Peppermill DOES NOT call individuals for lower rates. If you receive a call from anyone representing themselves from a housing authority offering lower rates, remember, neither the Peppermill or WMA has entered into any housing authority agreements. You MUST make your reservations directly with the Peppermill.
Click HERE to book online.
Education, Networking and Entertainment
Owners rely on managers to find opportunities to ensure the successful operation of their communities. Here, you will find everything you will need, on a professional level. We'll blend educational programs with entertainment and networking forums so you can succeed in this business. We will feature seminars with industry experts focused on shaping our future and our communities; sessions covering practical business issues; opportunities to network with other industry leaders; and a dynamic Expo to make your attendance worthwhile!
Expo
The Expo will open right after the Kick Off Lunch on Tuesday. Later in the day, we will once again have the wine tasting event during the Welcome Reception. A dinner buffet is included. Connect with exhibitors who will feature delicious wines while you network.

A dessert reception on the Expo floor after Wednesday's Annual Meeting and Luncheon will take place again! We will offer you a full day of Expo events the second day — a dynamic Expo will make your attendance worthwhile!
Exhibitor Forms
Exhibitor packets are available HERE. Remember, to check the daily floor plan (as it changes daily) located above staff photo here on this page.
Exhibitor AV, Electrical, Furniture, and Shipping Needs
If you need to order additional items for your booth other than the included table, chairs and waste bin, click HERE.
Golf Tournament
Somersett Golf & Country Club will be this year's home to WMA's Convention & Expo golf tournament — a benefit for the Frank J. Evans Charitable Foundation. The tournament takes place on Monday, October 23.

Somersett Golf & Country Club offers an 18-hole par 72 golf course that plays to 7,252 yards from its championship tees. Designed by Tom Kite, working with Roy Bechtol and Randy Russell, the breathtaking course features seven lakes, 62 white sand bunkers, 400-foot-wide landing areas, dramatic elevation changes and spectacular mountain views.

Fees are $275 per person or $1,000 for a foursome. It includes a boxed lunch, two alcohol drink tickets and unlimited non-alcohol beverages.

Registration will begin at 10:00 a.m. and a shotgun start at 11:00 a.m. The golf course is located approximately 20 minutes from the Peppermill at 2019 Championship Trail, Reno, NV 89523; phone 775.787.1800.
No-Cost Networking Event
Before we get to business, we are going to start you off with a no-cost networking event where you can catch up with industry colleagues during a leisure evening.

Will this be your first WMA Convention? If so, you must come to this networking event. Introduce yourself and make connections with people who will give you helpful advice for years to come.
Highlights
Kick Off Lunch — Tuesday, October 24

You are invited to the Kick Off Lunch beginning at 11:30 a.m.! We are going to begin the afternoon with a delicious plated lunch while giving you ample opportunity to network with friends. Remember, there's always a new face in the crowd ― introduce yourself and welcome first-time attendees. Make them feel good about joining WMA and being a part of this wonderful, resourceful organization!

President Chad Casenhiser will welcome you and officially open the 2023 WMA Convention & Expo. After lunch, the scholarship recipients from this year's Frank J. Evans Charitable Foundation will be announced. Greg Evans will reveal this year's recipients for deserving youth residing in WMA-member communities. Perhaps one of them is from your community! After that, WMA's Legislative Advocate, Chris Wysocki, will give a brief legislative update and announce the winners of WMA's hotly contested golf tournament held on Monday, October 23.

Right after lunch, you'll head into the opening of the Expo.

Expo Opening — Tuesday, October 24

The Expo will once again open right after lunch. You will have over two hours on the Expo floor before returning back to the educational seminars.

Welcome Reception and Wine Tasting — Tuesday, October 24

It's become a tradition! You will LOVE this wine tasting event. This evening also includes a dinner buffet in the Expo. We've planned another exciting show for you! Exhibitors have been invited to bring their favorite wines. This is always a great time to reconnect with other Expo attendees or get to know new people. The Expo continues on Wednesday, stopping only for the Annual Meeting and Luncheon. Stop in between seminars! You'll experience a dynamic day, interacting with outstanding exhibitors who represent cutting-edge products and services. Drawings will be held at the close of Expo on Wednesday. The Expo will close at 3:00 p.m. — don't miss the drawings!

Annual Meeting and Luncheon — Wednesday, October 25

Take a well-deserved break from the fast paced action of the Expo and educational seminars. Join us for the Annual Meeting and Luncheon. It's a great opportunity to be introduced to new members, as well as continuing members of WMA's leadership ― all in one place.

A plated lunch is provided ― delicious food and drink to satisfy your hungry appetite. This is followed with our formal program. An award will be presented to a deserving member whose political contributions have stood out above and beyond all those who continuously support WMA. Another award will be presented to a member whose selfless contributions have impacted the industry. During the Annual Meeting, you'll also learn the state of WMA, and see the new Board of Directors for 2023 – 2024 elected and sworn in.

Once all the business has been dealt with, we have some entertainment for you. Don't be in such hurry! We haven't forgotten dessert! Come follow us into the Expo and enjoy your dessert as you visit our exhibitors one more time!

President's Dinner Dance — Wednesday, October 25

You are cordially invited to WMA's signature black tie event. It will be held on Wednesday evening in a beautifully appointed ballroom. Wear your finest! However, if business casual suits you best, that is good too! We will be there to warmly welcome you ― our honored guests ― to this annual President's Dinner Dance. As you walk into the exquisitely decorated ballroom, you know a captivating evening awaits you.

The magic begins the moment you arrive. Join family, friends and colleagues for an elegant meal, then sit back as the Frank J. Evans Charitable Foundation draws tickets for the cash raffle. Let's get you in the mood as we celebrate the new President of the WMA Board of Directors, Virginia Jensen, as she is sworn into office and delivers her inaugural address. Next, join us in feting the 2023 recipient of WMA's most recognized and esteemed honor: The Busch, Carr & McAdoo Memorial Award.

Finally, after we have wrapped up the business, we invite you to close out the evening with dancing. We promise this will be an evening you will long remember!
Seminars
Tuesday, October 24, 9:00 – 11:00 a.m.
Legal and Management Advice (Rhiannon Arciniega, moderator; Ariel Bedell, Harmeet Chana and Christina Watts)
MCM: Breaking Down the MRL Basics (Joe Carroll, Ruben Garcia and Carla Robertson)
MCM: HCD Updates (Mitchel Baker and Matthew Weise)
MCM: The Future of Long-Term Leases – What Now? (John Pentecost and Paul Beard)
Tuesday, October 24, 3:00 – 4:30 p.m.
MCM: MHC Asphalt Repair & Maintenance Guide (Bryant Galyardt and Daniel Moore)
Update on New Laws (Terry Dowdall, Paul Jensen and Chris Wysocki)
Wednesday, October 25, 9:00 – 11:00 a.m.
Benefits of New Homes in Your Community and How to Advertise New and Used Homes (Todd Su, Candy Holcombe and Lucas Coe)
Legal and Management Advice (Greg Beam, moderator; Chad Casenhiser, Jim Joffe, Mike Mihelich and Julie Rubin)
MCM: Get Out! An Overview of How and When to Best Terminate Tenants for Substantial Annoyance, Rules Violations, and In Response to the Dreaded Notice of Intent to Suspend Permit to Operate (Andrew Ditlevsen, Ryan Jasinsky and David Dance)
MCM: Insurance Fundamentals: (Char Garza, Josh Woods and Phil Woog)
Wednesday, October 25, 2:45 – 4:15 p.m.
MCM: Fundamentals Matter — Best Practices in Creating, Building, Maintaining & Destroying Tenancy Files (Lucas Cole, Patricia Davis and Paul Jensen)
MCM: What Government Agency Has Authority Over Your Park? (Brad Harward)
Schedule
MONDAY, OCTOBER 23, 2023
Golf Tournament — Somersett Golf & Country Club (optional)
10:00 a.m. Registration; 11:00 a.m. Shotgun Start
Badges/Tickets Pick Up for Pre-registered Convention Attendees
1:00 – 6:00 p.m.
Networking Event Reception
5:00 – 7:00 p.m.
TUESDAY, OCTOBER 24, 2023
Registration Opens
8:00 a.m.
Educational Seminars
9:00 – 11:00 a.m.
Kick Off Lunch
11:30 – 12:30 p.m.
Expo Opens
12:30 – 2:45 p.m.
Educational Seminars
3:00 – 4:30 p.m.
Welcome Reception and Wine Tasting
4:30 – 7:00 p.m.
WEDNESDAY, OCTOBER 25, 2023
Registration Opens
8:00 a.m.
Expo Hours
7:30 – 3:00 p.m.
Continental Breakfast in Expo
7:30 – 8:45 a.m.
Educational Seminars
9:00 – 11:00 a.m.
Pre-Lunch Cocktails in Expo
11:00 – 12:00 p.m.
Annual Meeting and Luncheon
12:00 – 1:30 p.m.
Desserts and Drawings in Expo
1:30 – 2:30 p.m.
Expo Closes
3:00 p.m.
Educational Seminars
2:45 – 4:15 p.m.
President's Dinner Dance
5:30 – 6:30 p.m. Pre-Dinner Cocktails
6:30 – 10:00 p.m. Dinner Dance
THURSDAY, OCTOBER 26, 2023
Final Breakfast
8:00 – 9:00 a.m. Breakfast
9:00 a.m. 2023 WMA Convention & Expo Closes
Hertz Car Rental
WMA has negotiated special meeting rates with Hertz for car rentals during Convention at all California and Nevada locations. For reservations, call Hertz at 800.654.3131 and refer to CDP 2133824.
Sponsors
Download the list of Sponsorship Opportunities in the links provided above the staff photo. Direct any queries to Regina Sánchez at regina@wma.org or 916.448.7002, extension 4034.
2023 PLATINUM SPONSORS
2023 GOLD SPONSORS
2023 SILVER SPONSOR
2023 BRONZE SPONSORS
2024 Convention
M Resort Spa Casino
12300 Las Vegas Boulevard S
Henderson, NV 89044

October 14 – 17, 2024

Visit us at wma.org/conv2023 (site is expected to open May 2024).
Peppermill Reno
2707 Virginia Street S
Reno, NV 89502
(916) 288-4034 Regina Sánchez