Pool Signage Requirements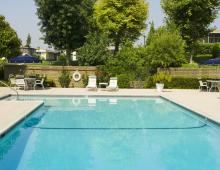 The California Code of Regulations was recently supplemented with new Building Code Requirements for mandatory new pool signs, one of which requires adult supervision of children and contradicts advice under Federal discrimination requirements.
California Code of Regulations, Chapter 31B apply when "construction, installation, alteration, addition, relocation, replacement or use of any public swimming pool." The Chapter specifically sites "auto and trailer park[s]" and "mobilehome park[s]" as examples of public swimming pools.
The supplement release date was September 12, 2012 and it has been advised that industry members consider the new rules as effective now. Local counties will oversee and enforce these regulations.
The new sign regulations under the Building Code, CHAPTER 31B, SECTION 3101B, et seq. require the following:
3120B.3 No diving sign. Signs shall be posted in conspicuous places and shall state, "NO DIVING" at pools with a maximum water depth of 6 feet or less.
3120B.4 No lifeguard sign. Where no lifeguard service is provided, a warning sign shall be posted stating, "WARNING: NO LIFEGUARD ON DUTY." The sign also shall state in letters at least 1 inch (25 mm) high, "Children under the age of 14 shall not use pool without a parent or adult guardian in attendance." (this language is prohibited by U.S. v. Plaza and considered discrimination against families with children)
3120B.5 Artificial respiration and CPR sign. An illustrated diagram with text at least 1/4 inch (6 mm) high of artificial respiration and CPR procedures shall be posted.
3120B.6 Emergency sign. The emergency telephone number 911, the number of the nearest emergency services and the name and street address of the pool facility shall be posted.
3120B.7 Warning sign for a spa pool. A warning sign for spa pools shall be posted stating, "CAUTION" and shall include the following language in letters at least 1 inch (25 mm) high:
Elderly persons, pregnant women, infants and those with health conditions requiring medical care should consult with a physician before entering the spa.
Unsupervised use by children under the age of 14 is prohibited.
Hot water immersion while under the influence of alcohol, narcotics, drugs or medicines may lead to serious consequences and is not recommended.
Do not use alone.
Long exposure may result in hyperthermia, nausea, dizziness or fainting.
3120B.8 Emergency shut off. In letters at least one inch (25 mm) high a sign shall be posted at the spa emergency shut off switch stating, "EMERGENCY SHUT OFF SWITCH."
3120B.9 No use after dark. Where pools were constructed for which lighting was not required, a sign shall be posted at each pool entrance on the outside of the gate(s) stating, "NO USE OF POOL ALLOWED AFTER DARK."
3120B.10 Keep closed. A sign shall be posted on the exterior side of gates and doors leading into the pool enclosure area stating, "KEEP CLOSED."
3120B.11 Diarrhea. A sign in letters at least 1 inch (25 mm) high and in a language or diagram that is clearly stated shall be posted at the entrance area of a public pool which states that persons having currently active diarrhea or who have had active diarrhea within the previous 14 days shall not be allowed to enter the pool water.
The entire supplement is linked on this page if you wish to review. You can also find the October edition of Dowdall Law Offices, A.P.C.'s Park Watch linked, which comments on the conflict between the No Lifeguard on Duty sign and how the language sited in the regulation conflicts with best practices considering discrimination lawsuits that site the United States v Plaza Mobile Estates, case. The Dowdall Law Offices are seeking clarification from HUD on how we may be expected to comply. We will keep you updated in the coming months.