Attention San Diego County Members!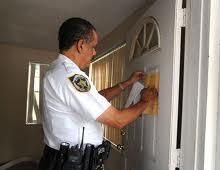 The San Diego County Sheriff's Department has issued notice that effective immediately, it is requiring landlords to disclose known information that could affect the safety concerns of its officers at the time of tenant lockouts.
Such information includes knowledge regarding:
drug or alcohol abuse
mental health issues
criminal history
gang membership, parole or probation issues
weapons
violent behavior
military or security experience
dogs
security cameras or alarms
elderly or disability needs
or any other issues that may affect deputy safety
In addition, the Sheriff is requiring the dates of birth of each occupant if known.
This information is required to be disclosed on a required "instruction" form at the time that the lockout paperwork is submitted to the Sheriff for service. Failure to fully-complete the form may result in delays in return of possession.
While this information is certainly good for the Sheriff to know, it does appear to place additional burdens on landlords, and may, in certain circumstances, arguably subject them to liability for failing to disclose safety concerns that result in injuries to its deputies.
This new form also rings privacy alarm bells, as item number 8 on the form requires landlords to provide evidence of the landlord-tenant relationship, such as a rental agreement or rental application. The Sheriff's new mandatory instruction form is linked on this page.
The Law Offices of B. Carlton Wright and other San Diego attorneys are asking the San Diego County Sheriff's Department to update the form so that landlords can be compliant and avoid further processing delays.
It is advisable that you discuss any concerns you have regarding these new requirements with your legal counsel.
Stay tuned for updates, as the form and requirements are likely to change!