2014 Update of New Laws
January Seminars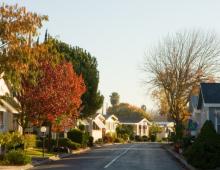 For those who have not yet registered, it is not too late to register for our upcoming New Laws seminar in January. This year will include Title 25 training, which is perfect for those new to management or those who could use refreshers on construction, use, maintenance, and occupancy of mobilehome parks, as well as mobilehome lots, permanent buildings, accessory buildings or structures, and building components located within mobilehome parks.
Seminar Description
This seminar will focus on the change to the Mobilehome Residency Law, as well as other changes in the state law and regulations, and how these changes affect community operations in 2014. The majority of this seminar will be devoted to Title 25 training provided by Brad Harward from HCD.
Successful individuals in our industry understand that staying informed on regulations, laws and best practices is one of the most powerful tools to protect assets and avoid litigation. Don't miss this educational opportunity… early registration is recommended. Register today!
Seminar Hours
9:00 a.m. to 4:00 p.m. and lunch is provided. Please see the dates and locations listed below in the When & Where section. You can also find dates and locations listed on the WMA Calendar of Events at wma.org/calendar.
Speakers
The New Laws speaker panel will include an industry attorney and an industry veteran who owns and/or manages multiple manufactured home communities. Title 25 training will be provided by Brad Harward from HCD.
MCM Units
Six (6.0) units of MCM credit can be earned upon passing the exam administered at the end of the seminar. What is MCM?
When & Where
Sacramento — January 9
Hilton Sacramento
2200 Harvard Street
Sacramento, CA 95815
916.922.4700
Fremont — January 14
Fremont Marriott Silicon Valley
46100 Landing Parkway
Fremont, CA 94538
510.413.3700
Rohnert Park — January 16
DoubleTree – Sonoma
One DoubleTree Drive
Rohnert Park, CA 94928
707.584.5466
NEW HOTEL LOCATION!
San Diego — January 23
San Diego Marriott Mission Valley
8757 Rio San Diego Dr
San Diego, CA 92108
619.692.3800
Burbank — January 28
Marriott Burbank Airport Hotel
2500 North Hollywood Way
Burbank, CA 91505
818.843.6000
Ontario — January 29
Hotel Ontario Airport
700 North Haven Ave
Ontario, CA 91764
909.980.0400
NEW HOTEL LOCATION!
Irvine — January 30
Irvine Marriott
18000 Von Karman Ave
Irvine, CA 92612
949.553.0100
Registration Fees
Member Discounted Rate: $160 (per person/per seminar)
Non-Member Rate: $320 (per person/per seminar)
Not a member of WMA and want to register at discounted member rates? Invest in your industry and get the information, forms, services and support you need… join WMA today!
How to Register
Register online! Go to Event Registrations, or wma.org/register-online and click the link that says WMA Event Registration (community/firm login required before clicking on this link).
Or, print the registration form linked on this page (soon!) and return your completed form to our office with payment. Questions? Call 800-669-8847 or email us for assistance.